Skip to Content
Vanities & Bathroom Fixtures
Quality Vanities and Bathroom Fixtures in San Jose, CA
If you want to make your bathroom the luxurious retreat you deserve, your first step should be to find the right furnishings and fixtures to put there. Payless Hardware, Rockery, and Nursery has been providing the San Jose community with exceptional products and services for more than 40 years. If you're looking to update and upgrade your bathroom, we offer a terrific selection of bathroom vanities at our hardware store for you to choose from.
Our Bathroom Vanities
Payless Hardware, Rockery, and Nursery exclusively sells bathroom vanities from Jenson Vanities. Jenson products have been renowned for their beauty, practicality, and fine craftsmanship for more than half a century. These vanities deliver fine, luxurious quality without the high price tag you might expect. When you shop with us, you can choose between 16 distinct vanity styles, including:
Inglewood. A practical product with a simple design, the Inglewood is a versatile bathroom vanity with elegant lines and soft-close hinges. It can be stained in maple, beech, or cherry tones.
Malibu. This unique Jenson creation is a durable wall-mounted vanity that doesn't require any reinforcement. The Malibu is made with beautifully engineered veneer, available in beech, maple, and Echo Wood staining.
Saratoga. The Saratoga is a smart-looking modern vanity with a pleasing contemporary design, suitable for nearly any setting. Available colors for the Saratoga are beech and maple.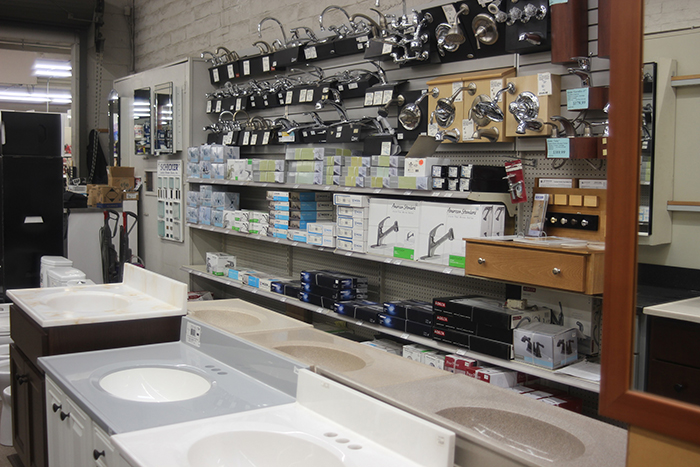 Our Bathroom Fixtures
Our store sells first-class bathroom fixtures from Jenson, including both cabinet knobs and chrome bar pulls. For the knobs, you can choose between several finishes: polished chrome, satin chrome, polished brass, and oil-rubbed brass. If you want to find hardware that will truly complement your bathroom vanities, you'll find what you need at our hardware store.
We also offer bidets from Aim to Wash. Bidets are cost-effective fixtures for bathrooms that can cut your bathroom tissue consumption by as much as 80%. Aim to Wash bidets are made with the highest-quality materials, and they're designed to be both highly functional and intuitive to use. They're easy to install in your bathroom, easy to keep clean, and an ideal option for both men and women. If you're considering purchasing a bidet for your comfort and convenience, let us be your first stop.
One-Stop Shop For Bathroom Vanities and Fixtures
We're your one-stop shop for bathroom vanities and fixtures. When you buy your products from Payless Hardware & Rockery, you can mix and match until you've found the perfect arrangement for your bathroom. Our products are made in America and designed to last. To find out more about our selection, call 408-274-4922.
Contact Us Today To Answer Your Vanities and Bathroom Fixture Questions!